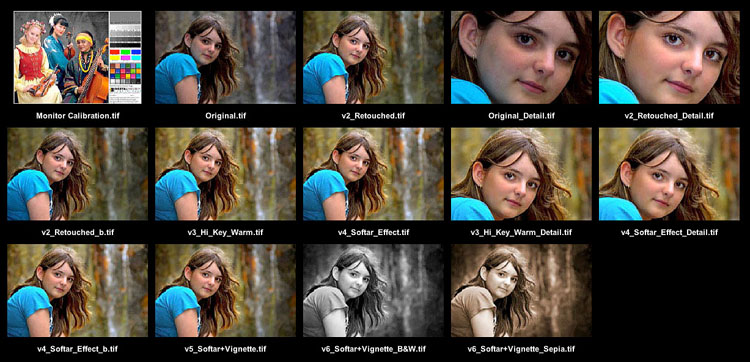 We work with you online to optimise and style your images to perfection! Click images for descriptions
DIgital Masters Australasia - Australia's first Digital Imaging Bureau was opened by us in Crows Nest NSW in 1989 when we installed the first $40,000 Kodak Dye Sublimation 'Photo Quality' printer in Australia and became Kodak Australiasia's first Digital Imaging specialist reseller. David Myers had been working on Evans and Sutherland mainframe computers and Autographics workstations since I982 but was soon producing more sophisticated, 'Photographic' imaging and doing the sort of retouching on Macs that normally needed a million dollar Quantel Paintbox!
A basic image optimisation and a quick retouch makes simple snapshots look like pro images!
For more example please view our 'Fixed Images' page
Image Optimisation. Digital Cameras and Photo CD scans are 'RAW' images that need to be cropped, have the density and gamma adjusted, colour graded, sharpened and spots retouched. DMA has developed software that speeds batch conversion of digital camera and Photo CD files (an optional service) to finished layout files optimised ready for print, web or both. The work is performed on our high end Macintosh systems using Pre-Press calibrated monitors. All 'digital master' files are archived and copies are supplied to the client. Although we produce the finest archival prints we don't force you to buy such additional services!
Retouching Photographic Film: We have scanning systems that automatically remove or reduce dust and small scratches and this is included in the scanning fee. Badly scratched film can be retouched by quote. We NEVER use any oils or coatings on film to 'fill-in' scratches as it can damage old, fragile emulsions. We don't use high speed drum scanners as old film is often warped and it can get destroyed when spinning at 10,000 rpm!
Retouching Photographic Prints: Our scanning service fees includes basic contrast enhancement and dust reduction. Old photos, no matter how good they look at first glance, have tiny imperfections like creases, abrasions, stains, foxing and silver leeching. These become a real issue when enlarging 4x or more and usually require professional retouching and sometimes special lighting during digitisation. We inspect and quote.
Retouching Artwork: It sounds odd to think of artwork needing retouching but artists often ask for their signature to be removed form the image so they can hand sign and number each limited edition print. We often remove borders and background colours back to pure white so that we can print on tinted art paper. Wide borders the same colour and texture as the background paper can be created to create space around art.
Image File Retouching and Manipulation: We always keep an unretouched version of each file. All retouching is achived with hand masking and adjustment layers so that evert stage is 'undoable' of can be lessened or modified. We can replace or blur bad backgrounds, change colours, superimpose, remove double chins, wrinkles and age spots, whiten teeth and add a sparkle to the eyes etc. All work is quoted and is proofed and approved on-line.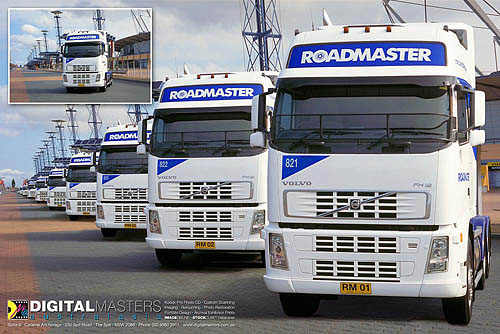 'Ten Trucks from One' Volvo Australia Click to enlarge
Image 'Evolution'. Digital Images we have produced for clients stay on file for years. During their 'lifetime' they often evolve into other images. All it takes is a phone call: The layered 'digital master' file is retreived from our archives, modified, proofed online and within minutes or hours you have your finished concept. Here is a typical evolution series - from a couple of snapshots to a fine art print...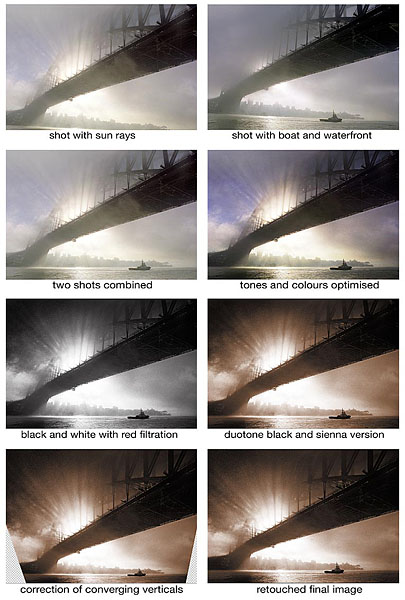 Foggy Harbour ©Brian Mcinerney Click to enlarge
Also See Digital Masters Australasia Professional Photo Restorations...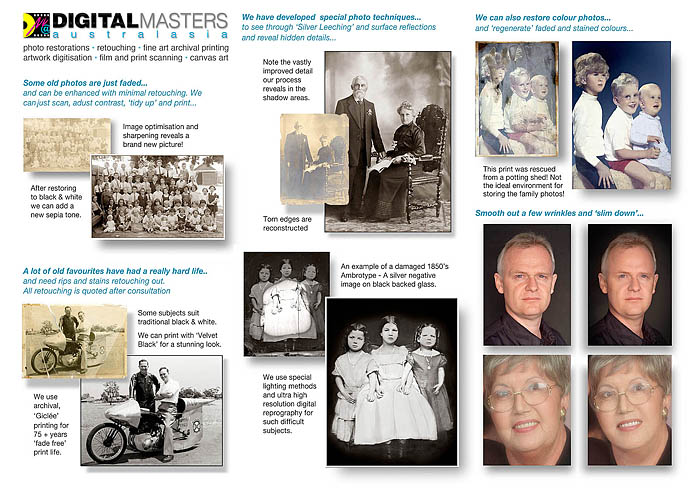 Please click on the above brochure Image above to enlarge



DIGITALMASTERS australasia - Restoring your photographic heritage for over 39 years...
David Myers was trained in England as a traditional illustrator and airbrush artist, He has been restoring damaged and faded photos since the 1970's. The original method involved making a 5"x 4" copy negative, a 16" x 20" work print followed by bleaching, airbrushing, fine brushwork, etching, and montaging, a second copy negative and then the final prints. It was very expensive, required numerous technical skills and lots of artistic ability! See our Photo Restoration Page


Is your monitor calibrated for accurately viewing images?
You should see dark grey squares in the top 'black' bar. Quick Calibration




..Simply click on the big red + for file transfer information!



.. Visit our Digital Masters'

pages for the latest news!

Site design, imaging and creation by David Myers of DIGITALMASTERS australasia Online since 1994