About Giclee Printing...
Giclee Fine Art Print Systems: 'Giclee' pronouced 'jeeclay' simply translated means a 'spurt' of paint or ink. 'Giclee Printing' was the original service name for the first, extremely expensive, digital 'Limited Edition' prints made on fine art rag papers using huge 'Iris' brand inkjet printers in the early 1990s. Today we use systems that print on a huge range of fine art, acid free cotton rag, fibre papers, films and canvases with far more detail, full colour saturation, photographic tonality and archival permanence...
Exhibition Quality Archival Photographic Prints: Our 2,800dpi Epson K3 UltraChrome archival pigment printers produce class leading finely detailed 'Exhibition' and 'Museum Quality' photographic prints with a fade resistance of up to 100+ years! We can print on cotton rag art papers, archival matte, pearl lustre and premium gloss photographic papers as well as 'CibaChrome' style mirror gloss pearl white film.
Cotton Rag Fine Art Prints: Cotton Rag prints used to be reserved for limited edition reproductions of watercolours as the limited black density, tonal range and saturation was not suitable for photographic subjects or representations of richly coloured oil and acrylic art. This changed with the development of rag papers with invisible ink receptor coatings that stopped the pigments soaking into the paper base and losing density. We now use the finest cotton rag media available: Breathing Color Elegance Velvet Platinum data sheet this 310gsm lighty textured 100% cotton media has tested superior to similar products from Hahnemuhle and Somerset etc. See Test Report. We are now authorised to supply a hand named and signed 'Fine Arts Trade Guild' Archival Certificate with each print.



Years of digital imaging experience means we can quickly 'optimise' every image...
Optional Free Image Optimisation: We have very expensive pre-press monitors on accurately calibrated Mac and Windows systems. When we open your file we 'Soft Proof' the image onscreen to show almost exactly how it will print. In a few minutes we can 'optimise' the contrast and density, remove any colour casts, fix up dark areas - even add a little density and saturation to washed out areas. Our clients rely on our skills and discretion to make their prints look the best. If major fix-ups are needed we will eMail a low resolution proof for approval. All optimised files can be supplied as 'Digital Master Files' on DVDs.
Professional retouching and photo restoration services...

We can also quote on retouching your images to make mere snapshots into art! View our 'Fixed Images' page

Image File Retouching and Manipulation: We always keep an unretouched version of each file. All retouching is achived with hand masking and adjustment layers so that evert stage is 'undoable' of can be lessened or modified. We can replace or blur bad backgrounds, change colours, superimpose, remove double chins, wrinkles and age spots, whiten teeth and add a sparkle to the eyes etc. All work is quoted and is proofed and approved on-line.
Print border treatments for traditional and contemporary display options...

Borderless Photo Prints: We can print your images right up to the edge but to avoid losing details at the very edge due to 'overprinting' by the printer we suggest that you order minimal borders below and let your framer trim them down after mounting. This way the image adges won't get damaged during handling.
Minimal Photo Print Borders: We recommend a traditional thin white border (3-5mm) so that the entire image is displayed without cropping. We produce bordered photographic prints by default.
Wide Art Borders: Watercolour art often works well with a wide border so that the image does not look 'cramped' in the frame or the matte overlay. The size of this border is an aesthetic decision made by you - the artist. It should, however, be the same colour and texture as the background paper in the image. If the original art has little or no border we can use retouching to extend the background as a seamless border so you don't get an ugly white area around the image. We quote on adding wide borders to watercolour images as it may involve retouching work.

Print Price List for Photo Papers, Cotton Rag Vellums and Canvases...
International 'A' Size and 'Photo Film Format' based pricing: We cover all international sizes from A6 to AO and larger. Our Full Price List includes standard photographic formats such as 35mm ratio, 6x6cm square, 6x17cm panoramic etc. We can send 'Approval Proofs' with a reduced image and a section of the image at 100%. Our maximum 'print run' size is 44" x 90" on Archival canvas and papers and 24" x 90" on Cotton Rag media. To reduce large project costs we can 'gang up' images. print in bulk, costed at $x.xx per linear inch and supply rolled or trimmed. Please eMail David Myers for a quote. Send us your large images via our File Transfer Page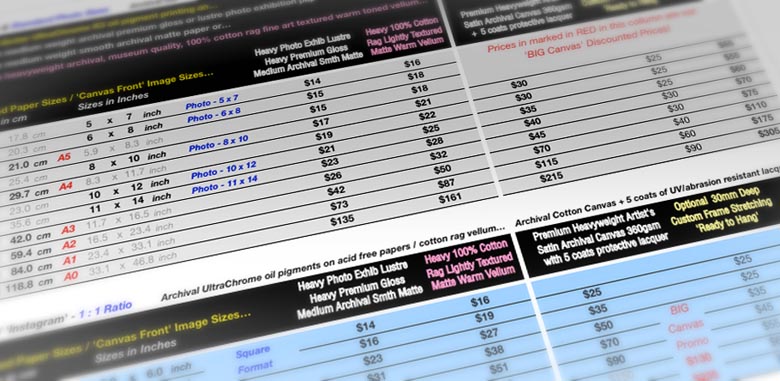 Please see our Full Price List
Also see our 'BIG Canvas' promotion...
Oil Pigment Prints on Canvas: We use Premier water resistant artist's cotton canvas. It has a strong, traditional texture but is still smooth enough toreproduce finely detailed images. The medium gloss white coating combined with our colour management procedures provides high saturation with good colour accuracy. The ideal application is for accurate reproductions of oil and acrylic art but we can print photographic images with a range of border and framing options for home and commercial 'decor'. More Information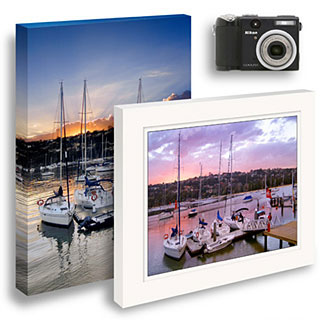 Canvases include 'Image Wrapping' or 'Classic Gallery' borders. See 'BIG Canvas' promo. Info